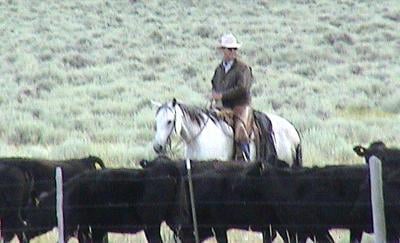 Livestock handling is all about animal behavior, according to Ed Fryer, who has managed Castle Mountain Ranch near White Sulpher Springs, Mont., since 1998 with his wife, Bev.
Ed and Bev are now mostly retired, and their eldest son, David, now manages the ranch.
Through the years, Ed and David became well known and well respected for low-stress livestock handling techniques.
In fact, for several years, they volunteered to demonstrate their techniques as part of the Beef Quality Assurance (BQA) program in Montana.
"The goal was to demonstrate simple low-stress solutions to common livestock handling tasks," Ed Fryer said.
That portion of the program always received undivided attention and was well received by those in attendance.
"Humans, horses, cattle – it's all animal behavior – and we're no different than they are," he said.
The basis of all animal training is reward training.
"It is about incentivizing a positive response somehow. It's as simple as giving your dog a treat for doing the right thing," he said. "With training horses, it is a system of pressure and release. You apply subtle pressure to get a response, followed by prompt release of pressure when you get even the slightest response in the desired direction. And it's the same with cattle."
Part of low-stress cattle handling is having a calm approach, letting the cow do the work, and setting up situations where both the handler and the cow have a high probability of succeeding.
One important concept that Fryer always brought up when they were conducting their BQA training was that there is a cumulative effect.
"If we do a poor job of handling a particular cow, the cow is going to remember what she got away with the first time," he said.
When ranchers handle cattle consistently, cows begin to accumulate a body of learned behavior in either a positive or negative direction.
"It is up to us to set that direction in our favor. Everybody wins by doing it right," he said.
There are certain situations that are difficult for cattle, and ranchers can take the time to evaluate the situation and make facility or other modifications to reduce difficult challenges. In these cases, it is okay to move the target.
"All we're trying to promote (to livestock handlers) is to use our heads, realizing sometimes slowing down one facet can speed up the whole project, and to learn to set up situations where we have a very high probability of succeeding," he said. "We have to make sure we're in the right spot and are able to adjust our position quickly enough."
One example Fryer gives shows the difficulty of moving heifers into a calving shed if the heifers perceive a scary situation with the layout.
"The layout was such that we had to put all the cattle through a back door with a shadowy dark spot that they really didn't like to go into," he said.
The crew built a simple lane on the opposite end of the shed to eliminate the need to go through that shadow.
"All we did was switch up the approach to the shed with some very simple construction," he said. "It didn't take us but two afternoons and a little bit of materials to switch it 180 degrees, and now one person can quite easily get a cow into the shed with almost zero stress."
Fryer learned a lot about cattle handling as a crew member on a remote cattle ranch.
"The most proficient crew members became mentors to the younger crew members, with coaching often very blunt and direct," he said.
That coaching, along with exposure to more modern horsemanship methods that were becoming popular in the '70s, helped Fryer develop many skills that proved useful to him in years to come – and not only with livestock.
Fryer gives two examples of his mentors' "blunt direction" that helped set the course for future professional development.
The first occurred while Fryer was a teen-ager on a summer branding crew for a "tough" cowboy outfit.
Yearlings were "mixed up" in the pasture, so the cowboys held the cattle up in a corner so the boss could sort them into their respective groups.
"I was assigned as a herd holder to assist in keeping the cattle together. My horse was barely trained, just like everybody else's horse. I got bucked off a couple of times and I started complaining to the boss about the horse," he said. "The boss finally told me to 'shut up and make sure I was doing my job to the best of my ability, and the horse part would take care of itself.' It worked, and I never forgot about it."
Another example occurred while Fryer was in his early 20s.
Fryer and another young cowboy named George were sent out from a cow camp to search for calves, along with Sam, an older cowboy approaching 60-years-old.
It was winter, bitter cold, with a foot of snow on the ground.
"We had to ride several miles into rough country and look for some calves, weaned calves that a hunter had reported seeing," he recalled.
The cowboys found the calves and started back to camp.
"We came to this little creek about 18 inches wide, two feet deep, drifted over with snow, and the calves didn't want to cross it," he said.
While the creek was invisible to the eye, both the calves and the horses knew it was there.
"You can hear the water gurgling down there and it was one of those oxbow-type creeks, so we had them trapped in one of the oxbows. These calves would not cross," he said.
Fryer and George decided they needed to make a track for the calves to follow.
"We rode our horses back and forth across (the creek) two or three times, while Sam guarded the narrow entrance and watched," he said. "The calves were not trying to get away, so we younger fellows were thinking that we had better just rope them and drag them across. But there were too many calves and we knew we couldn't rope them all."
Meanwhile, Sam said to the young cowboys, "You want to smoke?"
Since we had spent some years on the same crew, he knew we didn't smoke.
"Sam looked at us in a direct and unmistakable way and said, 'You guys would be a hell of a lot better hands if you at least had to stop and smoke once in a while,'" he said.
Meanwhile, the sun was sinking, and Fryer and George were getting nervous.
"George and I were tightening our cinches getting ready to rope, and while all this is going on, the calves are standing there watching us." he said. "We had no choice but to sit on our horses and talk while Sam was smoking. Finally, those calves must have decided they were going to have to go somewhere, because all of a sudden, they just turned around and hopped across the creek and headed out towards where we wanted them to go all along."
That taught Fryer a lot about low-stress cattle handling.
"We did not need to rope and drag them across. We just presented the option in a different way to get them to do what we wanted them to do," he said. "Eventually, those calves decided, all on their own, that our horse tracks didn't look so bad. They just followed our horses' tracks, hopped across the little creek and away they went."
That stuck in Fryer's mind and he began to build on his cowboy skills.
Fryer has spent a lifetime on ranches in Montana and Wyoming, and he believes low-stress cattle handling is a way of handling cattle that leads to success for both cattle and hands.